What is the Indian Ocean Dipole?
Global heating is "supercharging" an increasingly dangerous climate mechanism in the Indian Ocean that has played a role in disasters this year including bushfires in Australia and floods in Africa.
Scientists and humanitarian officials say this year's record Indian Ocean dipole, as the phenomenon is known, threatens to reappear more regularly and in a more extreme form as sea surface temperatures rise.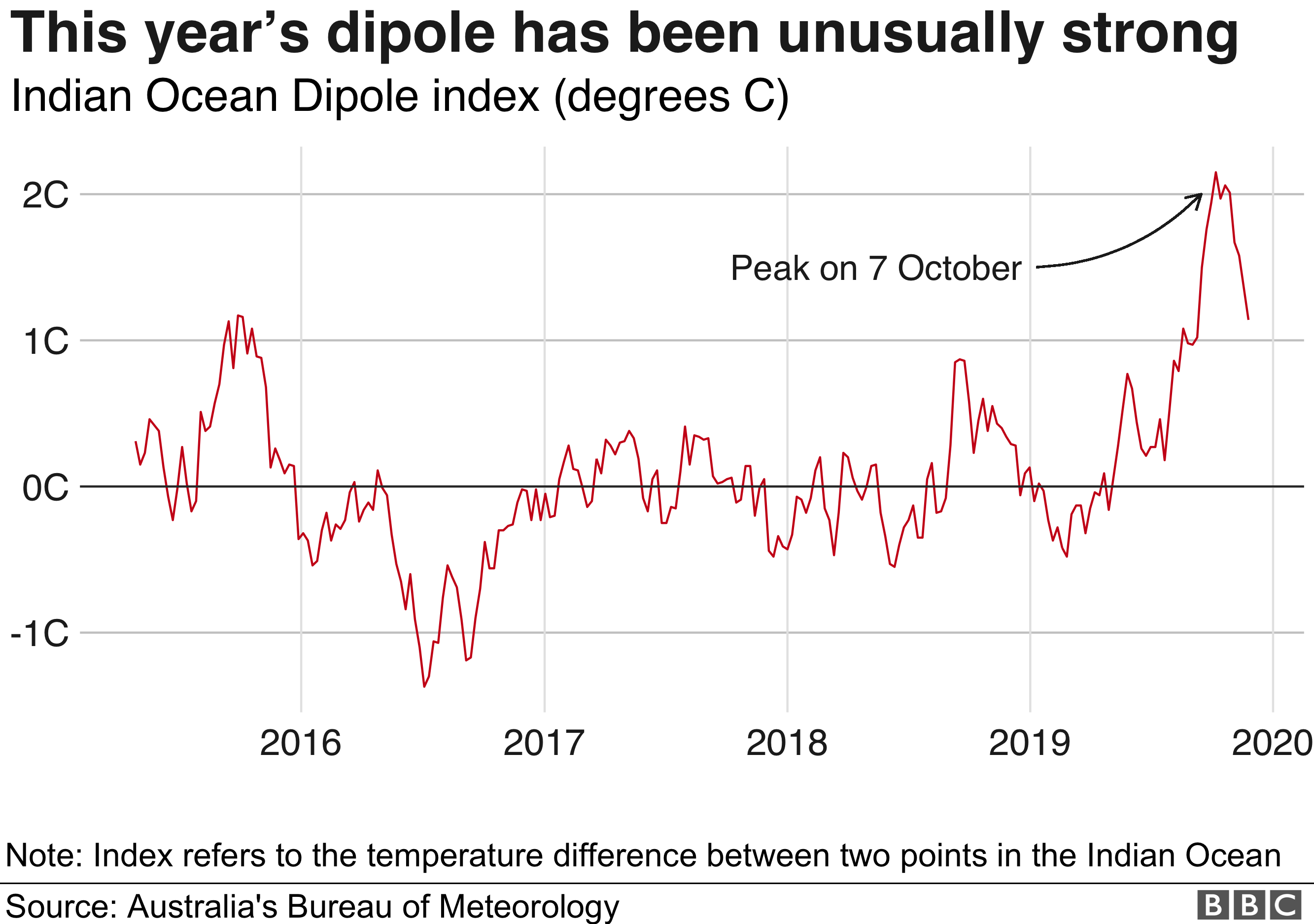 The Indian Ocean Dipole (IOD) is a coupled ocean-atmosphere phenomenon that was first described in 1999 after Japanese and US researchers observed interesting things occurring in the Indian Ocean atmosphere and ocean during 1998. Research that ensued showed that the IOD is probably equally important as the El Nino Southern Oscillation (ENSO) as a climate driver for SE Australia.
Measurements of ocean temperatures go back with some reliability to 1877 to classify IOD events. Cores of large brain corals (used to characterise ocean behaviour), sampled off Indonesia give the ability to go back even further to about 400 years.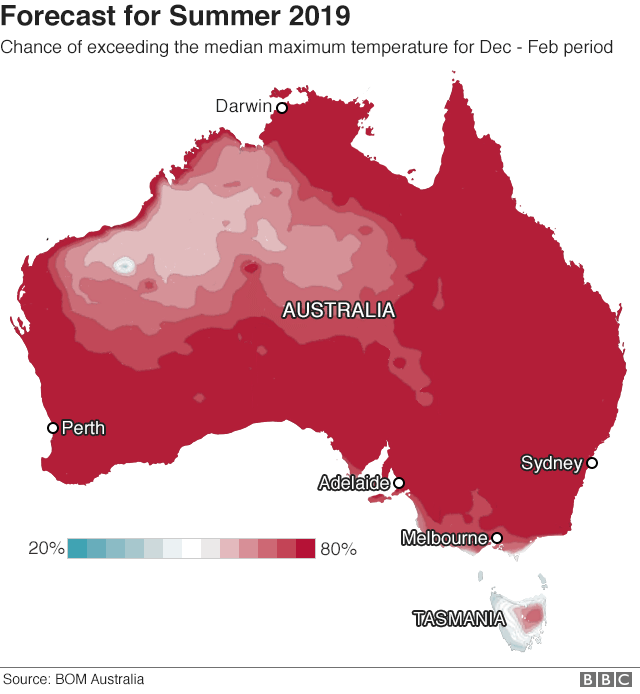 Caroline Ummenhofer, a scientist at Woods Hole Oceanographic Institution in Massachusetts who has been a key figure in efforts to understand the importance of the dipole, said unique factors were at play in the Indian Ocean compared with other tropical regions.
While ocean currents and winds in the Atlantic and Pacific can disperse heating water, the large Asian landmass to the north of the Indian Ocean makes it particularly susceptible to retaining heat. "It's quite different to the tropical Atlantic and tropical Pacific events. There you have you have steady easterly trade winds. In the Indian Ocean that's not the case," Ummenhofer said.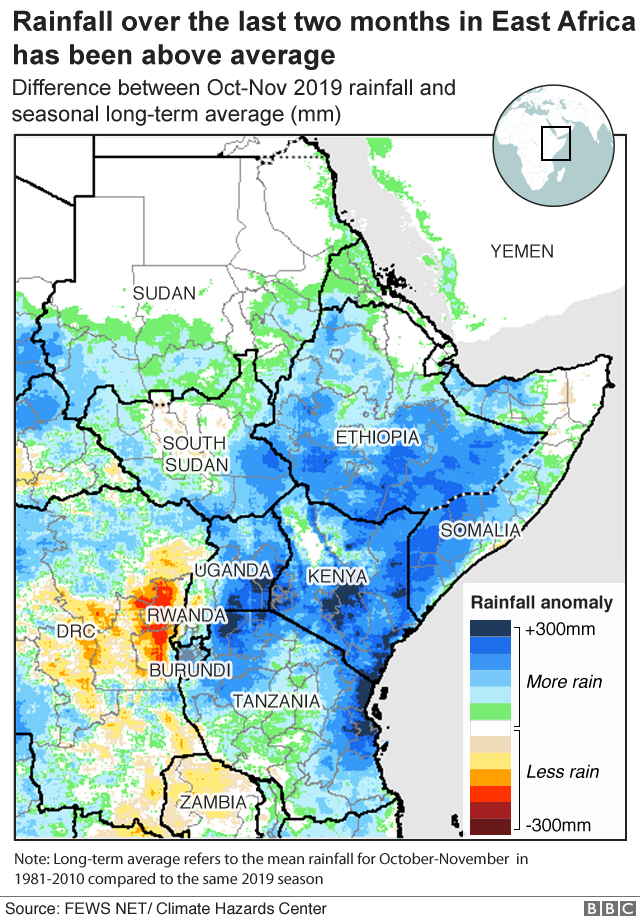 Heavy downpours have devastated parts of East Africa over the last two months, with the Horn of Africa seeing up to 300% above average rainfall between October and mid-November, according to the Famine Early Warning Systems Network.
Djibouti, Ethiopia, Kenya, Uganda, Tanzania, Somalia and South Sudan have been particularly badly affected, with flash floods and landslides hitting communities across the region.
Almost 300 people have reportedly died and 2.8 million people have been affected, according to the UN Office for the Coordination of Humanitarian Affairs. The Famine Early Warning Systems Network has warned of further flooding in Kenya and the Lake Victoria basin as well as areas of Tanzania, Rwanda and Burundi. Kenya's Met Department said the heavy rain could continue into the New Year.
Meanwhile in Australia, record-breaking spring temperatures have helped spark and fan a series of bushfires across the country. About 100 bushfires are raging in the Australian state of New South Wales (NSW), with the most severe forming into a "mega blaze" north of Sydney.
The Australian Bureau of Meteorology has warned communities to prepare for more severe fire danger, with a high chance of warmer than usual days and nights for much of the country throughout summer.
Extreme climate and weather events caused by the dipole are predicted to become more common in the future as greenhouse gas emissions increase. In a 2014 study published in Nature, scientists in Australia, India, China and Japan modelled the effects of CO2 on extreme Indian Ocean dipoles, such as those in 1961, 1994 and 1997.
Assuming emissions continue to go up, they projected that the frequency of extreme positive dipole events would increase this century from one every 17.3 years to one every 6.3 years.
"The countries in the west of the Indian Ocean, so on the African coast, are going to see much, much more flooding and heavy rainfall relating to these events," says Dr Turner. "You're going to get more damaging impacts on crops and on infrastructure and flooding.
"On the other hand, in the east of the Indian Ocean, islands on the west side of Indonesia are going to see a greater chance of drought and reduced rainfall."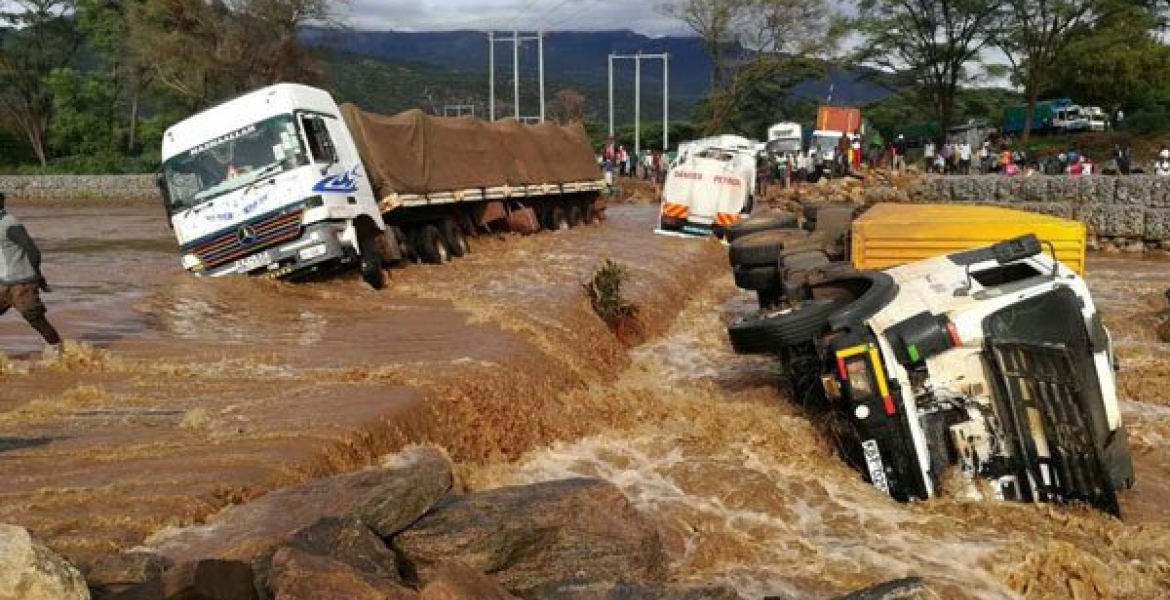 "As non-meteorologists trying to plan ahead, we're being faced with complex and changing scenarios. We're just running to keep up. Looking now at southern and eastern Africa, with failed rainy seasons and then flooding, none of it looks normal," she said.
"The new normal is a severe weather events. Looking at the Indian Ocean dipole's effects, you have to see this is as a preview of what can be expected in other parts of world. And while I'm not surprised that attention of the world is elsewhere, that is still unforgivable given how many are suffering from a phenomenon the rest of the world helped create."